Listen on Apple Podcasts
Listen on Spotify
Listen on Google Podcasts
Training in a competitive sport in any arena requires dedication, commitment, sacrifice and a lot of hard work. To reach the peak of your sport to compete in the olympics is an achievement not obtained by many. It is hard enough for anyone from most backgrounds to achieve. When a neurodiversity is thrown into the mix, it makes that achievement all the more impressive. No other success story compares to this episode's guest, Olympic Rower for Team GB Caragh McMurtry.
Starting out rowing from a young age, Caragh explains to our host Matthew Head, how sport for her was a way of communicating her world to others.
Knowing that something was quite fitting from a young age, Caragh tells us how the immediate reaction was to be misdiagnosed and treated for Bipolar Disorder and various other mental health condition ignoring or missing the signs of Autism. The side effects from the medication worsened her ability to perform at the level she wanted so that she could succeed in internal rowing competitions.
It wasn't until 2019, 5 years after being misdiagnosed with Bipolar Disorder, that Caragh was finally diagnosed with High-functioning Autism and got the support she needed! "It gave me permission to be different and now I'm happier than I've ever been!"
After retiring from professional rowing after the delayed 2020 Tokyo Olympics Caragh set out to as her mission to make sure that no one goes through what she did and to help other people with neurodiversity through sport.
"I founded Neurodiverse Sport CIC in response to the current lack of understanding and support available for neurodivergent athletes, and intend it to be a platform for support, education, and advocacy. "It is my belief that no athlete should feel misunderstood, isolated or unable to reach their full potential because they do not conform to neurotypical standards of behaviour and communication."
This is an incredible story which everyone needs to hear!
Key Topics:
Being misdiagnosed with Bipolar for Autism,
Being treated for mental health and ignoring signs of neurodiversity,
Training for the olympics
Learning about Autism and getting the correct diagnosis,
Building a charity to support those with a neurodiversity through sport 'neurodiverse sport'.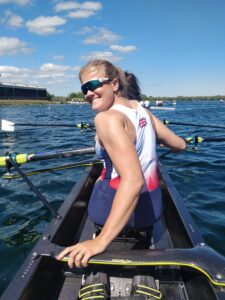 Selected Links –